Learn the Tips and Tricks for the Best Christmas Lighting Tulsa with GreenPro
The festive season is synonymous with joy, family gatherings, and a myriad of colorful lights that illuminate every nook and cranny of your home, creating a magical and inviting ambiance that everyone cherishes. In the heart of Oklahoma, a GreenPro Christmas light installer stands ready to make your holidays brighter and more vibrant than ever before. If you are looking for an expert in Christmas lighting in Tulsa, we have all the resources and creativity to turn your dream into reality.
Key Takeaways
GreenPro offers personalized Christmas lighting solutions for residents in Tulsa, with a range of styles from classic to contemporary.

A well-detailed guide is available to help customers select the ideal Christmas light installation company in Tulsa, facilitating a choice that meets all quality and reliability standards.

The use of LED Christmas lights by GreenPro ensures an eco-friendly and economical lighting solution, reducing electricity costs to a minimum while providing vibrant colors.

While DIY is an option, hiring professional services like GreenPro promises a hassle-free and expert approach, saving time and delivering a splendid result.

GreenPro doesn't just stop at lighting; they offer a full-fledged Christmas decor service to completely transform your home into a festive wonderland.

GreenPro's services are widely accessible in various locations in Tulsa, offering convenience and ease of access to their top-notch services.

Entrusting GreenPro with your Christmas lighting in Tulsa,

OK,

ensures not just a service, but an enchanting experience that resonates with the joyous spirit of the holiday season.
Lighting Design Considerations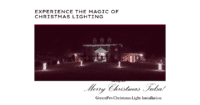 As you approach the holiday season, the first thing that comes to mind is how to make your home stand out with stunning lighting. The journey starts with selecting the perfect lighting design. At GreenPro, we believe in bringing a personalized touch to every home.
Our expert team, being the maestros of experienced Christmas lighting design considerations, harbors an arsenal of lighting designs ranging from classic arrangements to contemporary styles. We encourage our clients to dive deep into their imaginations, envisioning the kind of display that would light up their hearts and then turning that vision into a dazzling reality.
According to a

survey by the National Retail Federation

, the holiday season can account for about 20% of annual retail sales, highlighting the essential role of holiday decorations in fostering a festive spirit.
Choosing the Right Installation Company
Selecting the right company for the job is pivotal. You'd want a company that not only meets but exceeds your expectations. GreenPro has prepared a comprehensive guide to help you choose the best Christmas light installation company in Tulsa that stands tall on all the parameters of quality, reliability, and creativity.
Our guide delineates the finer points one must consider before settling for an installer, making the choice easier and ensuring that you get nothing but the best when it comes to lighting up your premises for the festive season.
LED Christmas Lights
Investing in good-quality lights is a decision you will never regret. LED Christmas lights are a choice to reckon with, for they are not only eco-friendly but incredibly economical as well, bringing down electricity costs to as low as five dollars per year in Oklahoma.
Moreover, LED lights offer vibrant and vivid colors, creating a magical glow that fills your home with warmth and joy. They are the embodiment of beauty meeting efficiency, making your Christmas lighting Tulsa both delightful and sustainable.
DIY vs. Professional Services
Often, homeowners are caught in a dilemma between DIY and professional services. While DIY might seem like a cost-effective option, it comes with its own set of challenges. Our page on the benefits of hiring a professional design and installation service versus DIY explores this topic in depth, helping you make an informed decision that suits you best.
GreenPro, being a seasoned player in the Christmas décor arena, brings to the table expertise, and a portfolio brimming with creativity and grandeur, promising to brighten the season with the most mesmerizing Christmas lights.
Christmas Decor
To add to the vibrant light setup, you can opt for an elaborate Christmas decor by GreenPro. We understand that every home has its own personality, and our design maestros endeavor to mirror this uniqueness in the decor that they set up, transforming your abode into a wonderland of dreams, lit with passion and adorned with the finest embellishments that resonate with the festive spirit.
Where to Find Us
If you are wondering, "Where can I find the best Christmas lights installation near me in Tulsa, OK?" Look no further, for GreenPro is here to cater to all your festive decoration needs with services sprawled across various locations in Tulsa, including but not limited to:
Brighten Your Season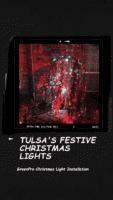 We invite you to brighten your season with Christmas lights that not only illuminate your home but also your spirits, spreading joy and warmth in every corner. We are not just installing lights; we are creating an experience, a festive canvas of vibrant hues that sings the song of joy, of celebration, and of the magic that Christmas brings along.
At GreenPro, we endeavor to weave a tapestry of lights that tells a story, your story, sprinkled with glittering lights and echoing with the laughter of loved ones, under the glowing canopy of meticulously installed Christmas lighting in Tulsa.
Join the green initiative this holiday season, as promoted by

The Environmental Magazine

, by choosing GreenPro's eco-friendly Christmas lighting solutions.
Conclusion
In Tulsa, the holiday season is incomplete without the enchanting glow of Christmas lights, which bring joy to every home. Trust in the experts at GreenPro for a Christmas lighting Tulsa experience that's both heartwarming and splendid, bringing your festive dreams to a vibrant reality. Connect with us, share your vision, and let us paint your home with lights that echo the joyous carols of Christmas.
Dreaming of a Christmas wonderland right at your doorstep? The magic is just a phone call away! Dial +1 918-779-8982 and let the GreenPro experts weave a holiday fairy tale with our supreme Christmas Lighting Tulsa services. Be it twinkling rooflines or glowing garden paths, no job is too big or too small. Don't just deck the halls, light up the entire neighborhood with GreenPro. Act now, and let us illuminate your holidays with enchanting Christmas lights that will be the talk of Tulsa!