Learn the Art of Exterior Xmas Lighting in Tulsa with GreenPro!
Christmas is synonymous with joy, gifts, and, of course, beautiful lights that brighten up the season, giving streets, homes, and spaces a vibrant and festive outlook. At GreenPro, the finest Christmas light installer in Tulsa, Oklahoma, we aim to turn your Xmas lighting dreams into a reality. In this guide, we will take a deep dive into everything that entails exterior Xmas lighting in Tulsa, covering a range of topics from design considerations to the benefits of professional installation.
Key Takeaways
GreenPro specializes in creating a magical ambiance at your doorstep with Christmas lights and decor in Tulsa, helping homeowners choose a festive theme that complements the architectural nuances of their homes.

Front yard décor is crucial during the festive season, and adopting a theme can greatly enhance the aesthetic of a home. GreenPro offers customized lighting designs, crafting a vibrant and unique lighting display that can include a variety of light types and patterns.

Safety is a paramount concern when installing Christmas lights. GreenPro underscores the importance of safe installation, suggesting homeowners refer to their guide on the benefits of hiring a professional company for light installation versus taking a DIY approach.

Sustainability is an essential factor in Christmas light installation. GreenPro champions the use of LED lights for their economic and environmental benefits, encouraging homeowners to learn more about this option.

GreenPro, boasting an impressive portfolio, is a reliable partner for homeowners looking to spread joy with a magical display of lights. The company ensures seamless Christmas light installation in Tulsa, offering a hassle-free experience that includes regular check-ups and necessary adjustments throughout the season.

The company stands by the belief that Christmas is a frame of mind, emphasizing the role of a beautiful light setup in fostering a joyful festive spirit and brightening the season in a green, sustainable manner.
Remember, it's not just about installing lights; it's about creating a warm, joyful atmosphere that lights up hearts and brings happiness during the festive season. With GreenPro, homeowners can look forward to a brighter, happier, and greener holiday season.
The Vibrant Palette of Designs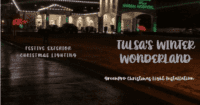 Experienced Christmas lighting design considerations are pivotal to achieving a magical ambiance during the holiday season. Leveraging the unique blend of classic and contemporary designs can do wonders in showcasing your individuality through a bright and vibrant palette of lights.
Choosing the Right Installer
The first step in achieving the perfect holiday glow is to select the right installer. Our guide to choosing the best Christmas light installation company in Tulsa provides an in-depth look at what you need to consider when making this choice. Make sure to check:
Portfolio

Reviews

Experience

Services offered
Advantages of Professional Installation
Attempting a DIY could be tempting; however, there are substantial benefits of hiring a company for professional design and installation of Christmas lights versus DIY. From ensuring safety to providing the necessary equipment, a professional service like GreenPro can save you time and hassle.
Price Matters
Budgeting is an inevitable aspect of planning for Xmas light installations. Thankfully, we have transparent and competitive pricing available on our website to help you make an informed decision without any hidden costs.
Tip: Always opt for a service that provides value for money rather than going for the cheapest option available.
The Magic of LED Lights
LED Christmas lights not only save on electricity costs but also offer a brighter and more vibrant display. The environmental benefits and the cost-efficiency make them a popular choice among residents in Tulsa.
Locations to Lighten Up
With the design and installer chosen, it's time to look into the different spaces that can be brightened up with Xmas lights. Let's explore the possibilities available with exterior Xmas lighting in Tulsa.
Creating a Stellar Portfolio
Our portfolio showcases an array of lighting designs, ranging from simple yet elegant setups to grand and elaborate displays. Your home could be the next masterpiece in our portfolio with an exclusively tailored light setup.
Roof and Window Decor
The outline of the roof and windows can be adorned with a series of lights to enhance the architectural elements of your home. Adding intricacies with specialized lights can be a great option.
Garden and Driveway
Installing lights on trees, bushes, and along the driveway can create a welcoming path leading to your home. Consider using a combination of colored and white lights for a delightful visual effect.
Lawn Decor
Sprucing up your lawn with decorative elements such as lighted reindeer or snowmen can add a festive touch to the overall setup. Be sure to explore various lawn decor to find the one that suits your style.
Wrapping it Up
As the holiday season approaches, the streets of Tulsa come alive with vibrant hues and sparkling lights. At GreenPro, we take pride in being one of the finest Christmas light contractors in Tulsa, offering services that include but are not limited to:
While there are endless possibilities when it comes to designing and installing exterior Xmas lighting in Tulsa, it's the joy and spirit of the festival that truly brighten up the season. GreenPro is here to brighten your season with Christmas lights, bringing smiles and spreading joy with every twinkling light installed.
Quote: "Christmas waves a magic wand over this world, and behold, everything is softer and more beautiful." – Norman Vincent Peale
Feel the magic this season by transforming your exterior space into a wonderland with expertly designed and installed Xmas lighting in Tulsa by GreenPro.
Creating a Wonderland at Your Doorstep
Stepping into the festive season, it is essential to dress your home in a manner that resonates with the joy and grandeur of Christmas. GreenPro specializes in creating a magical ambiance right at your doorstep.
Thematic Approach
Adopting a theme can significantly enhance the aesthetic of your home. Be it the warm glow of traditional yellow lights or the vibrant and energetic multicolored lights, choosing a theme brings harmony and a visual appeal to your decorations. Consider complementing themes with your neighbors to create a festive street that stands out in Christmas lighting and decor in Tulsa.
Front Yard Decor
Your front yard is the canvas for showcasing your festive spirit. Leveraging decorative elements like wreaths, bows, and lights can transform your front yard into a representation of the festive spirit.
Customized Lighting Designs
As the leading Christmas light installer in Tulsa, Oklahoma, GreenPro has expertise in crafting customized lighting designs that are exclusively tailored to augment the architectural nuances of your home.
Pro Tip: To ensure a unique lighting display, blend in a variety of light types and play with light patterns to bring a dynamic look to your exteriors.
The Essentials of Exterior Xmas Lighting
Embarking on the journey of lighting up your exteriors demands a meticulous approach. Here, we touch upon the essential aspects that one needs to ponder while planning for the lighting extravaganza.
Safety Precautions
Safety is paramount in installations. From choosing the right kind of lights to ensuring the safe installation of electrical setups, every detail matters. Dive into our guide on the benefits of hiring a professional company for Christmas light installation vs. DIY to understand how a professional touch can shield you from potential hazards.
Sustainability with LED Lights
As we champion sustainable choices, LED lights come as a savior not only for your electricity bills but also for the environment. Learn more about the economic and environmental benefits of LED Christmas lights with GreenPro.
For those who are trying their hand at DIY Christmas light installation, don't miss the insightful tips and tricks available on This Old House's guide to hanging Christmas lights to make your Tulsa home shine bright this holiday season.
GreenPro: Your Partner in Spreading Joy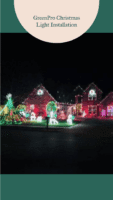 At GreenPro, we believe in turning dreams into reality. Our experienced team, backed by an impressive portfolio, stands ready to transform your home into a magical land of lights.
Seamless Installation
With GreenPro, you say goodbye to the troubles of installation. Our team ensures a seamless Christmas light installation in Tulsa delivering a mesmerizing outcome that is sure to be the talk of the town.
After-Service
Our commitment doesn't end post-installation. We ensure regular check-ups and necessary adjustments to maintain the vibrancy of your light setup throughout the season.
Quote: "Christmas isn't just a day, it's a frame of mind." – Valentine Davies
By entrusting GreenPro, you choose a hassle-free, joyous, and splendid festive season. Make your home a reflection of the vibrant festive spirit with the finest exterior Christmas lighting in Tulsa OK. Remember, it is not just about lighting up a home; it is about lighting up hearts and spreading joy. Let us take a step towards a brighter, happier, and greener festive season with GreenPro.
Light Up Your Holiday Spirit with GreenPro
This holiday season, give your home the luminous transformation it deserves with exterior Xmas lighting in Tulsa. Discover a panorama of brilliant, twinkling lights that breathe life and joy into your surroundings. Don't just take our word for it; explore our rich portfolio showcasing our artistry and dedication. When you're ready to make the magic happen, reach out to the leading Christmas light installers in town. Call us today at +1 918-779-8982 to kickstart the joyous journey with GreenPro, your partner in creating dreamlike festive scapes!